If you are in search of a chiropractor in Lakeville, it makes sense to choose an experienced doctor you can trust. Our comprehensive approach at ALIGN in Lakeville MN ensures that we give you the best opportunity to achieve health.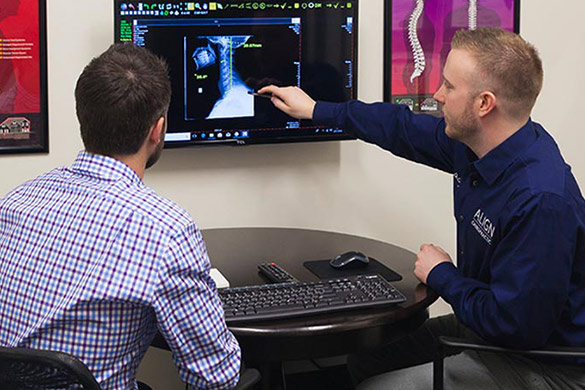 Training of a Chiropractor
Patients regularly underestimate the amount of training and education chiropractors must undergo before fully allowed to practice. In fact, chiropractors have among the most rigorous coursework required in the medical field. The amount of schooling required is on par with that of physicians.
 Once chiropractic students make their way through the basic medical coursework in their undergraduate studies, they must be accepted and graduate from a 4-year chiropractic college. Throughout their four years at a highly-specialized chiropractic college, their knowledge is constantly being built and tested.
A NEW HEALTH CARE EXPERIENCE: PRECISE, OBJECTIVE, AND GENTLE
At ALIGN, our purpose is to provide a comprehensive solution to resolving problems related to the spine and spinal nerves, allowing your body to work at its best.
Low Force Treatments - No aggressive or invasive methods
Objective Measurements - Analytical Findings, Pre and Post measurements so you can actually see the progress you're making
Customization - Each treatment plan is customized to each individual's circumstances. There is no cookie-cutter approach at our clinic
Transparency – No word games about your insurance coverage. Just honest and up front answers about your care, your results, and your dollars
---
Rest assured, you will be in good hands with the chiropractic team at ALIGN. If you have any questions, feel free to contact our team in Lakeville. We are here to help you achieve your health goals.
chiropractic care for a better lifestyle
What Kind of Training Does a Lakeville Chiropractor Have?
In order to become a chiropractor one must complete a minimum of four years at an accredited chiropractic institution. Before being able to attend chiropractic school, it is required to have an undergraduate degree in a basic science or a number of years of experience in a different but relevant health profession.
Students working through the program to become chiropractors must log at least 4,200 hours in the classroom and also must, at minimum, undergo 1,000 hours of supervised training in a clinic. These supervised hours are used to teach how to diagnose specific conditions and what treatment techniques to use in order to bring the body back to its full potential.